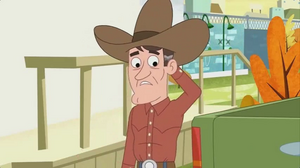 The Banjo Player appeared in "Barlow", and adopted the episode's titular character. His daughter Sally Mae adopted Zippster, Kippster, and Tip-tip.
The Banjo Player was voiced by Diedrich Bader.
Profile
The banjo player would perform regularly at the Big Easy Hotel right off the interstate along Route 66. Whenever he was there, he would spend time with Barlow on the hotel's front porch, petting him, giving him food, and playing the banjo next to him in the evenings. After several years, the hotel closed down due to lack of business. As the banjo player left the hotel for the last time, he wished the owner well, and told him "take good care of your dog," referring to Barlow. After the banjo player left with his family in his pick-up truck, the owner laughed to himself, since Barlow was not his dog at all, and, unbeknownst to the banjo player, left Barlow all alone at the abandoned hotel. Some time later, the banjo player found Barlow at Shelter 17 and adopted him.
Notes