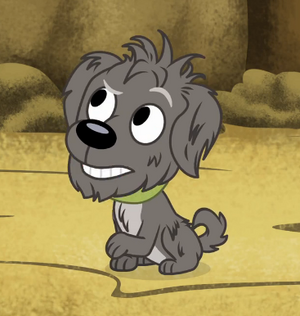 Beardy (later renamed "Whiskers") is an Affenpincsher puppy who appeared in "Lucky Has to Move." He was voiced by Alanna Ubach.
Profile
Beardy was very open and honest about his grumpy and rude behavior. He despised the name Beardy, which was given to him by Niblet, but reluctantly accepted it when he admitted that he had no actual name. He grew impatient when it came to finding his perfect person and, because of this, he personally incited and led a puppy revolt that overwhelmed Niblet and left the oversized dog bound by his ankles. Eventually, Lucky was called in to break up the riot and got the puppies their homes with their perfect people before nighttime fell. In the end, Beardy was the only puppy left, as nobody seemed to want him. Conceding defeat, he contemplated that maybe he wasn't meant to be adopted. However, Lucky disproved this theory, because- due to his experiences earlier that day -he knew just the person for Beardy.
By cover of night, Lucky, the Pound Puppies and Beardy made their way to the home of Dot's father's boss, Mr. Stinkman and lowered the pup into Stinkman's bed by way of winch. The elderly man woke to find Beardy in his bed and it was the perfect match between human and puppy. He was adopted by Mr. Stinkman, who renamed him as Whiskers. It was due to Whiskers that Lucky didn't have to move, as Stinkman realized that Dot's father deserved a promotion, but didn't have to take his family somewhere new to get it (as well as the fact that the most important thing in life isn't money, but family and friends); thus, Lucky and his family moved into the business' guest house (which was, ironically, right next to the pound).
Trivia
Beardy is the final puppy in the series.