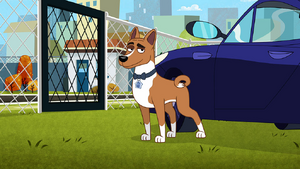 Bondo is a basenji and a British Pound Puppy agent who appeared in "The Pups Who Loved Me." He was voiced by Jeff Bennett.
Profile
Bondo took it upon himself to take Yakov from Shelter 17 to his perfect person, Sevtlana, who lives with her father in a dog food factory on an island in the Mediterranean sea, and-with the help of Lucky, Rebound, Cupcake, and Patches-was able to foil the plans of the rouge Kennel Kitten, Puss Puss Galore. When Bondo lost his high-tech spy collar, he didn't know what to do and confessed that the reason he had arranged for himself to place Yakov with a person was that he was jealous of Lucky's success as a Pound Puppy agent, and wanted to prove to everyone that he was better. By the end of mission, Bondo himself got adopted by the factory's two guards, and admitted that Lucky was a better dog than him.
Notes
Bondo is a parody of James Bond. Judging by his voice, he's more than likely based on the Pierce Brosnan portrayal of James Bond.