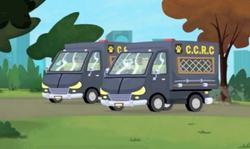 The
Canine Capture and Removal Team
, usually shortened to its initialism,
C.C.R.T
, is an ill-fated team of the most elite dogcatchers in the city. It appeared in "
I Never Barked for My Father
."
They were founded by Robert Netter, son of the state dogcatcher and streetman for Shelter 52, in order to capture dogs that "aren't meant to be with people". Among its members included several dogcatchers from other shelters and Officer Ketchum of Shelter 17.
Profile
Their first mission was to capture Slick and Chip, two stray dogs who would always cause trouble wherever they went, and imprison them. To make sure they didn't escape, Netter built the "Canine Capture and Removal Center", or C.C.R.C., an inescapable building that Olaf describes as looking like a "doggie prison". The name of this building is printed on their trucks. Eventually, the latter pup ended up at Netter's home, where he played with his two children. Seeing even one of the most troublesome strays act like a normal pup convinced him that he may have been wrong about whether some dogs cannot function in a human household, and he presumably disbanded the team soon afterward.
Community content is available under
CC-BY-SA
unless otherwise noted.