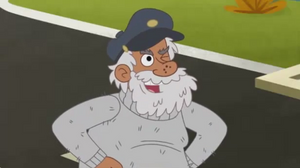 Captain Pete is an old sea captain who appeared in "Salty". He is voiced by John DiMaggio.
Profile
Captain Pete travelled the seas with Salty for many years. After an incident with a vicious fish (Which almost cost Pete his life), Salty arranged for Captain Pete to have a new dog for a first mate, Suds. However, Captain Pete's boat struck a reef while out at sea, but he and Suds were rescued by Salty and the Pound Puppies. Pete gladly took Salty back afterwards.
Community content is available under
CC-BY-SA
unless otherwise noted.