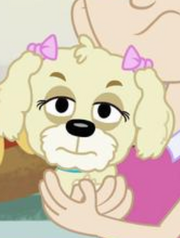 Dimples is a puppy who appeared in "Working K-9 to 5." She was voiced by E.G. Daily.
Profile
Dimples was very excited and eager to be with her perfect person,
Dolores
. But before she could be with her, Dolores had to prove to
her father
that she was responsible enough to care for a puppy, by taking up a paper route. Thanks to the
Pound Puppies
, Dimples was able to get adopted by Dolores.
Community content is available under
CC-BY-SA
unless otherwise noted.