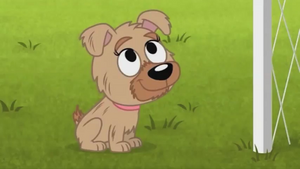 Kiki is an Imaal Terrier puppy who first appeared in "Olaf in Love". She has supposed extra-sensory abilities. She is also the pet of Olaf and his girlfriend, Gertrude.
Kiki is voiced by Jentle Phoenix.
Profile
In "Olaf in Love". She showed off her "psychic" abilities by apparently reading Squirt and Niblet's minds, and sensing that Lucky and Cookie were more then "just friends". She was soon adopted by a woman named Gertrude. The next day, however, she was returned. When asked why she wasn't happy with Gertrude, Kiki replied that it was Gertrude and Olaf she was meant to be with. The Pound Puppies set about getting the two humans together. Although their plan failed, Kiki was able to bring Olaf to Gertrude, and the two reconciled their feelings. Kiki was then embraced by her new owners.
Kiki later made an appearance (along with Gertrude) in a crowd of people and pets in "Squawk".