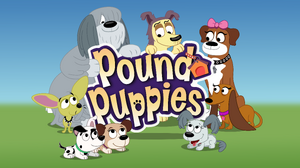 The following is a complete list of episodes that have aired of the Nick Jr original series Pound Puppies as of May 2013.
Note: As a result of production moving from 9 Story Entertainment to DHX Media Vancouver, the show was put on hiatus from December 24, 2010 to August 23, 2011 (between episodes 7 and 8). Despite this, episodes that aired from October 10, 2010 to January 28, 2012 (episodes 1-26) are considered to be part of "Season 1".
Series Overview
Episodes
Episode #
Production Code
Title
Written by
Directed by
Original Airdate
1
101
"The Yipper Caper"
Paul Germain and Joe Ansolabehere
Richard Weston
October 10, 2010
November 25, 2010
A so-called unmatchable puppy finds the perfect match and then loses him.

Puppy: Yipper

2
102
"Rebound"
Mark Drop & Bart Jennett
Richard Weston
November 5, 2010
December 5, 2010

The puppies seek a home for a puppy named Rebound. However, it soon becomes an exhausting task when each owner returns her just minutes after adoption, and Niblet knows why, as well as his connection with her. Meanwhile Mr. Mcleish's dog-hating mother, Agatha McLeish (Betty White) comes to visit the pound.


Puppy: Rebound (debut)

3
103
"The General"
Rachel Lipman
Richard Weston
November 19, 2010
February 17, 2011
The General comes to visit Shelter 17 with tons of puppies that need adoption so they disguise each puppy like a brown puppy. A little while later, Cookie starts getting jealous of the way the General gives orders but later tells her her true feelings about Lucky and also tells the General all of her feelings about how she's sick of thinking that all of the guys think that she's a guy too. After all of the puppies get adopted, the General and Cookie give one last chat and the General gives Cookie a present. When she opens it, its the bow that Cookie uses from that episode on.

Puppy: Puppies disguised as a brown puppy.

4
104
"The Prince and the Pupper"
Bart Jennett
Richard Weston
December 3, 2010
December 7, 2010
Tired of being unappreciated, Squirt switches places with a rich lookalike who desires to become a Pound Puppy.

Pup(s): Squirt and Cuddlesworth

5
105
"Catcalls"
Eric Trueheart
Richard Weston
December 17, 2010
December 12, 2010

The Pound Puppies and Kennel Kittens try to get a puppy a kitten adopted by the same home, in which the father dislikes cats.

Pup: Wagster

Kitten: Mittensecembee

6
106
"King of the Heap"
Rich Fogel
Richard Weston
December 24, 2010
December 30, 2010

A rottie named Tyson wishes to get adopted by the owner of the junkyard. However, the junkyard owner adopts Niblet instead.

Puppy: Tyson

7
107
"My Fair Rebound"
Rachel Lipman
Greg Sullivan
August 13, 2011
TBA

Ms. McLeish wants to enter Rebound in a dog show to show up a rival and her upper class canine. Believing that she must repay her owner for adopting her, Rebound seeks help from the Pound Puppies to help her become a proper contestant. Puppy: Rebound




Note: From this episode onward the animation for the series is produced by DHX Media Vancouver/Studio B, marking a noticeable change in the series' animation style.

8
108
"Quintuplets"
Joe Ansolabehere
Jos Humphrey
August 13, 2011
February 1, 2011
The Pound Puppies try to get quintuplets adopted. This becomes a problem when they learn all five want to be adopted together.

Puppy: The Quintuplets

9
109
"Dog on a Wire"
Eric Trueheart
Greg Sullivan
August 20, 2011
February 3, 2011

Tired of being left behind on missions because of her shape, Strudel gets her chance to shine when she is tasked with guiding a circus dog back to his home. Reaching the big top, she becomes part of a circus act that must succeed to prevent a greedy ringmaster from cancelling it for good. Strudel must soon choose between a life of stardom and her friends back at the pound, before the fame goes to her head.

10
110
"Homeward Pound"
Billiam Coronel
Jos Humphrey
August 27, 2011
TBA

After a successful mission at an airport, Squirt and Niblet stumble into a departing plane. Landing in the middle of nowhere, they have to find their way back. Their friends back home call upon the rest of the Pound Puppy network to pinpoint their exact location.




11
111
"Rebel Without a Collar"
Rachel Lipman
Greg Sullivan
September 10, 2011
TBA

Cookie develops a crush on a coyote and the two consider leaving her.


Puppy: Buddy

12
112
"Taboo"
Julie Selbo
Jos Humphrey
October 1, 2011
TBA

The pound team believes there is a puppy that is bad luck and Lucky tries to convinced him he is not.




Puppy: Taboo

13
113
"Toyoshiko! Bark Friend Machine"
Mark Drop
Greg Sullivan
October 7, 2011
TBA

A super-intelligent robot dog comes to the pound who understands Strudel. Milton Feltwadle reveals that the robot dog is a spy-bot to spy on McLeish's success work. When the spy-bot recorded the pound puppies operation, Lucky and the others decides to erase the spy-bot's memory to protect their secret, but Strudel won't allow it.


Puppy: Toyoshiko

14
114
"Zoltron"
Silvia Olivas
Jos Humphrey
October 15, 2011
TBA

After Zoltron gets separated from his family during an outing, he needs help from the Pound Puppies to be reunited with his people, and the pups soon make the discovery that their new companion may or may not be from planet Earth.




Puppy: Zoltron

15
115
"The Really Weird Dog"
Steven Tsapelas
Greg Sullivan
October 22, 2011
TBA

Lucky wants to help Rover find his person, but finds out that he is not an ordinary dog as Rover is actually a bit dum.





Puppy: Rover

16
116
"Bone Sour"
Tony Infante
Jos Humphrey
November 12, 2011
TBA

When Ms. McLeish leaves for a vacation cruise, Rebound worries what if she will never come back.

17
117
"Snow Problem"
Rich Fogel
Greg Sullivan
November 19, 2011
TBA

The episode starts when the Pound Puppies crew is relaxing and kicking back. Then, Tundra comes into the pound. Next, it's realized that he was caught on purpose because he wanted the Pound Puppies to help him get his human he saw on a dog food commercial by joining the Ididirod and winning it so he could prove he's a sled dog to his two older brothers. The Pound Puppies group ends up helping Tundra and go to Alaska. They make Niblet become the musher. The group and Tundra meet his human and the sled dog team and it turns out the sled dogs are jerks. Later, when the race starts, the Pound Puppies crew ends up getting lost and end up being 5 hours late. When the second leg of the race starts, Tundra's person's dog sled team goes the wrong way after an avalanche covers up the sign. Tundra wants to help them but Lucky wanted Tundra to win and make his human proud. But, Tundra saves the dog sled team and the human and they finish the race. The male leader dog of Tundra's person's dog sled team is sent to the vet to get his wounds checked. The human is proud of Tundra and he goes to talk to Niblet. Surprisingly, Niblet talks back to the human and they went to get some food. But, off screen, the squirrels catch Niblet before he could take off his ski mask. The dogs go home and Tundra is with his human.




Puppy: Tundra

18
118
"The K9 Kid"
Mike Ferris
Jos Humphrey
November 26, 2011
TBA

A puppy named Pepper wants to be a cop dog but the leader of the German Shephards, Sarge, says she's too small and isn't the right type of dog for the job. So the Pound Puppies crew helps train Pepper, who eventually gets passed the test. Then, she sees a boy twice and chases him away. The second time, he's about to be sent into a cop car when his dad arrives. Apparently, the boy was just making up crimes so he can train to become an undercover cop, or so his dad thinks. At the fair, there's a crime going on. Some people are trying to steal other peoples' bikes! Pepper and the boy, along with the help of the Pound Puppies crew and the German Shephards, eventually catch the criminals and the boy's dad lets him keep Pepper.




Puppy: Pepper

19
119
"The Call of the Squirreldog"
Nancy Steingard
Greg Sullivan
December 3, 2011
TBA

Mr. Nut-Nut's history of joining the Pound Puppies is told by Squirt while he tries to get three Rotweiller puppies to go to sleep after they chased Nut-Nut around the headquarters.




Puppy: Mr. Nut Nut

20
120
"I Never Barked for My Father"
Joe Ansolabehere
Jos Humphrey
December 10, 2011
TBA
When Niblet brings a new pup and his older partner to the shelter to hide from a dogcatcher, Lucky is forced to deal with some family ties.

Puppy: Chip

21
121
"McLeish Unleashed"
Eric Trueheart
Greg Sullivan
December 17, 2011
TBA

Milton Feltwadle returns to run Shelter 17 when McLeish gets an exciting promotion, and the gang soon realizes that placing pups in homes will become a challenge as soon as they realize that the new leader means serious business. Milton Feltwadle reveals to be incompetent on running a pound and treats it more like a prison and believes that dogs should look like their owners. Puppy: Corky

22
122
"Olaf in Love"
Peter Hannan
Jos Humphrey
January 7, 2012
TBA

The Pound Puppies try to get a puppy (who knows pretty much everything) adopted by a librarian and when she comes to the pound, Olaf falls in love in her and to the Pound puppies amazement, the puppy is only happy when Olaf and the Librarian are in love because when they're together, they're her "people," but when they're apart, its not the same. So with the help of Niblet's astoundingly deep voice, who's able to disguise himself as a "love doctor," they help Olaf with his first date which ends in disaster. But, after Olaf realizes that the librarian moved away, she comes back and they're together forever and adopt the puppy. Puppy: Kiki

23
123
"Return of the Kittens"
Tony Infante
Greg Sullivan
January 14, 2012
TBA

the Kennel Kittens are back for their 2nd outing, sneak to the Pound with a wagon piled with bacon, which they use to play a trick on the Pound Puppies so that they could steal one of Strudel's inventions and use it for themselves. Kitten: Lily

24
124
"Mutternal Instincts"
Janna King
Jos Humphrey
January 21, 2012
TBA

Shelter 17 is announced to have a meeting with all of the leader dogs from every country to show a way to transport packages using a firetruck. Puppy: Pupcake
Episode #
Production Code
Title
Written by
Directed by
USA Original Airdate
Unofficial Original Airdate
1
201
"Zipper Zoom-it"
Mark Drop
Jos Humphrey
June 2, 2012
September 7, 2012

Squirt reveals a secret and promises to coach Violet to catch frisbees at a lagoon pool. Puppy: Violet

2
202
"The Fraud Princess"
Rachel Lipman
Greg Sullivan
June 9, 2012
September 14, 2012

Agatha's new beau brings a nosey puppy to play with Rebound. Puppy: Princess

3
203
"The Super Secret Pup Club"
Bart Jennett
Jos Humphrey
May 16, 2012
September 21, 2012

Patches and Cupcake join Patches to create their own puppy placing troupe. Pup: Patches

4
204
"Barlow"
Alan Hanson
Greg Sullivan
May 23, 2012
September 28, 2012

Barlow encourages his fellow canines to adopt a lackadaisical philosophy; Lucky races to find Barlow's person before the Pound Puppies fail their next mission. Puppy: Barlow

5
205
"There's Something About Camelia"
Tony Infante
Jos Humphrey
May 30, 2012
October 5, 2012

When Camelia arrives at Shelter 17, Lucky and the team are challenged to find her a real match. Pup: Poopsie and Camelia

6
206
"Good Dog, McLeish!"
Evan Gore
Greg Sullivan
June 7, 2012
August 12, 2012

McLeish thinks he is a dog after being hypnotized; He joins the Pound Puppies on their mission to match Piper to her person. Pup: Piper

7
207
"When Niblet Met Giblet"
Phil Walsh
Jos Humphrey
June 17, 2012
July 10, 2012

Niblet falls in love at first sight. When his girlfriend, "Giblet" is adopted, Niblet sets out to find her.

8
208
"The Ruff Ruff Bunch"
Rich Fogel
Jos Humphrey
July 13, 2012
October 19, 2012

While the Pound Puppies search for the missing dog Cuddlesworth, the Super Secret Pup Club are initiated into a fancy dog club led by a mysterious founder. Pup: Poof (first appearance)

9
209
"Salty"
Merriwether Williams
Greg Sullivan
July 21, 2012
October 26, 2012

Salty, an ailing sea dog, searches for his own replacement. Pup: Salty and Suds

10
210
"Squawk"
Chelsea Meyer
Greg Sullivan
July 28, 2012
November 2, 2012

Niblet reveals the Pound Puppies' secrets to a parrot, who then tells them to humans. Pup: Humphrey

11
211
"The Accidental Pup Star"
Tony Infante
Jos Humphrey
August 25, 2012
November 9, 2012

The Pound Puppies must discredit a viral video of Rebound singing and dancing before Leonard can make her into a Hollywood celebrity pet star and reveal the Puppies' biggest secret. Pup: Roxie

12
212
"No Dogs Matter"
Richard Whitley
Jos Humphrey
September 1, 2012
November 16, 2012

Several dogs are returned to the pound because of a landlord's discipline.


13
213
"I Heard the Barks on Christmas Eve"
Chelsea Meyer
Greg Sullivan
November 16, 2012
November 30, 2012

When the Pound Puppies need a miracle to place thousands of puppies in homes, Rebound's tenacity may be just the Christmas miracle. Puppy: Ralph (debut)

14
214
"Pound Preemies"
Eric Trueheart
Jos Humphrey
December 2, 2012
September 18, 2012

A dog named Petunia gives premature birth to a litter of puppies at Shelter 17, who are mistakenly adopted by a trio of girls. The Pound Puppies must find the newborns and get them back to their mother. Puppy: Petunia's Puppies (including Cinnamon)

15
215
"Puptastic Voyage"
Richard Whitley
Jos Humphrey
November 28, 2012
November 14, 2012

Lucky and the others travel inside Lola's stomach to retrieve a device that somehow got inside of her.


16
216
"Planet of the Frogs"
Richard Whitley
Greg Sullivan
December 13, 2012
December 7, 2012

Lucky, Lola and Pepper battle an evil frog who has captured other people.


17
217
"Wolf Record"
Eric Trueheart
Greg Sullivan
October 15, 2012
September 23, 2012

Lola tries to break a number of world records and enlists help from Lucky, Strudel and Pepper.

18
218
"The Mining"
Chelsea Meyer
Greg Sullivan
October 21, 2012
September 25, 2012

Lucky, Strudel, Pepper, Niblet and Squirt stay in Poof's large hotel where creepy segments occur.
Funding for a season 3 was confirmed by DHX Media[1] in 2012. Yvette Nicole Brown later confirmed that season 3 would contain about 26 episodes.<ref>Yvette Nicole Brown's Twitter feed.
Episode #
Production Code
Title
Written by
Directed by
USA Original Airdate
Hawaii Original Airdate
1
301
"Working K-9 to 5"
Stephen Cedars
Jos Humphrey
June 1, 2013
TBA

Dolores has to prove to her editor-in-chief dad that she is responsible enough to adopt a pup, so she becomes a delivery girl for his newspaper. The Pound Puppies investigate why her deliveries are so late, so they can match her to her perfect pup. Puppy: Dimples

2
302
"Cuddle Up Buttercup"
Chelsea Meyer
Greg Sullivan & Tim Stuby
June 1, 2013
TBA

An adorable pup named Buttercup looks so much like the latest toy sensation, Cuddle Up Buttercup, that kids think that she is the toy come to life. The Pound Puppies scramble to find her perfect person before she gets nabbed.

Puppy: Buttercup

3
303
"The Pups Who Loved Me"
Bart Jennett
Jos Humphrey
June 8, 2013
TBA

British Pound Puppy agent Bondo arrives at Shelter 17 in his flying car. While playing in the car, the Super Secret Pup Club set off the controls and fly to London. Lucky and Bondo team to find them and place pup Yakov with his perfect person.

Puppy: Yakov

NOTE: So far, the only episode that doesn't include Cookie

4
304
"Midnight at the Museum"
Tony Infante
Greg Sullivan and Tim Stuby
June 15, 2013
TBA

The Pound Puppies sneak into a museum to place pup Millie with Amelia, the curator's granddaughter. Their mission takes a spooky turn when Niblet and Squirt find themselves face to face with the awakened cat mummy Meowtuhotep.


Pup: Millie

5
305
"Puddles the Problem Pup"
Story by: Rachel Lipman
Teleplay by: Tony Infante
Jos Humphrey
June 23, 2013
TBA

The Pound Puppies are all ready to place Puddles with his perfect person Sam, but there's one problem... Puddles isn't housebroken! They work together to find creative ways to train Puddles until they realize that Sam may have the solution.


Puppy: Puddles

6
306
"It's Elementary My Dear Pup Club"
Eric Trueheart
Greg Sullivan and Tim Stuby
June 29, 2013
TBA

When a boy gets in trouble in school, Pepper and the club investigate to clear his name.


Puppy: Boots

7
307
"Hot Dawg!"
Mark Drop
Jos Humphrey
July 6, 2013
TBA

Pupster's chance to find his perfect person may be ruined when a love triangle between Cookie, Strudel and a new smooth-talking Chihuahua named Antonio threatens to break up the team.


Puppy: Pupster

8
308
"I'm Ready for my Close Pup"
Temple Mathews
Greg Sullivan and Tim Stuby
July 10, 2013
TBA

Strudel becomes star-struck while filling in for Rebound's TV sitcom.




9
309
"Once a Ralph, Always a Ralph"
Temple Mathews
Greg Sullivan and Tim Stuby
July 14, 2013
TBA

The Pound Puppies suspect that Ralph is ruining their plans on purpose, so Lucky tests his loyalty. Pup(s): Bobo and Chauncey




10
310
"Hello Kitten"
Story by: Eric Shaw
Teleplay by: Tony Infante
Jos Humphrey
August 3, 2013
TBA

The Super Secret Pup Club take an adoption mission from the Kennel Kittens. Kitten: Spoons




10
310
"Beauty is Only Fur Deep"
Benji Kleiman
Tim Stuby
August 10, 2013
TBA

A heroic rescue dog arrives at the shelter without any fur; Squirt makes him a full-body toupee, but the pup's lack of confidence makes it difficult to find him the perfect home.


Puppy: Champ

52
311
"Pound Vengers"
Evan Gore
Greg Sullivan
August 17, 2013
TBA

Strudel begins leading a double life after being mistaken for a superhero, but her new job threatens her position on the team.


Pup: None

53
312
"Hail to the Chief"
Sib Ventress
Greg Sullivan
August 17, 2013
TBA

Agent Ping challenges Strudel to find the perfect home for rambunctious pup Chief. Strudel eagerly accepts until she finds out that Chief's perfect home is with the President's daughters.


Puppy: Chief

54
313
"All Bark and Little Bite"
Phil Walsh
Jos Humphrey
August 24, 2013
TBA

Two of Patches' old friends tease him for hanging out with girl pups.


Puppy: Bart and Tony

55
314
"Lucky the Dunce"
Joe Ansolabehere and Johnny Rosentnal
Tim Stuby
August 31, 2013
TBA

Strudel's electronic scrambling device goes awry and causes Lucky to act indifferent.


Puppy: Six unnamed puppies

56
315
"Back in Action"
Sib Ventress
Tim Stuby
September 7, 2013
TBA

Bert, a dog who's a faded TV star, has the blues until his skills are needed to aid in a rescue.

57
316
"The Truth Is in Hear"
Jos Humphrey
Jos Humphrey
September 14, 2013
TBA

McLeish finds Strudel's special Hearmuffs and begins to suspect that the dogs are aliens.


Puppy: Clover

58
317
"No More S'mores"
Joe Purdy
Jos Humphrey
September 21, 2013
TBA

Shy pup Millard accidentally ends up on a camping trip with the High Energy Scouts and the Pound Puppies race to place him with his perfect person before the scouts overwhelm him for good!




Puppy: Millard

59
318
"Doubles Trouble"

Chelsea Meyer

Tim Stuby
September 28, 2013
TBA

Sibling squabbles between Sweetpea and Hairy threaten their adoption and their perfect owners' ping pong championship.

60
319
"Little Monster"
Tony Infante
Greg Sullivan
October 5, 2013
TBA

Pepper feels annoyed when she has a human infant boy named "Jason", and handling him is very tough. Pup: Pepper

61
320
"Rebound's First Symphony"
Eric Trueheart
Tim Stuby
October 12, 2013
TBA

After a dispute between Agatha and Sumalee's mother makes it nearly impossible for YoYo to be matched with Sumalee, beautiful music brings peace to the neighborhood when they finally get together. Puppy: Yo-Yo

62
321
"Lord of the Fleas"
Lisa Melbye
Jos Humphrey
October 19, 2013
TBA

During a tropical island vacation, Solo, an adventurous pup, wanders off into the jungle and it's up to the Pound Puppies to save him before a volcano erupts.  Pup: None

63
323
"The Road to Empawerment"
Sid Venters
Jos Humphrey
October 26, 2013
TBA

Niblet leads three unique pups on a dangerous journey of self-discovery after listening to a motivational speaker.

64
324
"Pound Patrol"
Eric Trueheart
Tim Stuby
November 9, 2013
TBA

(Coming Soon)

65
325
"The Pupple's Court"
Joe Ansolabehere and Jean Ansolabehere
Tim Stuby
November 16, 2013
TBA

Lucky's habit of following instinct over rules lands him in front of a Pound Puppy tribunal that could mean the end of Shelter 17 if he is found guilty.

Puppy: Beardy
International Broadcast
Language

Country
Dubbed Title (Literal Meaning)
Channel Broadcast
Date of Debut
English
USA
Pound Puppies ("Pound Puppies")
Nickelodeon
October 10, 2010
English
Hawaii
Pound Puppies ("Pound Puppies")
Nickelodeon
November 25, 2010
English
England
Pound Puppies ("Pound Puppies")
Nickelodeon
December 20, 2010
German
Germany
Pound Puppies: Der Pfotenclub ("Pound Puppies: The Puppy Club")
Cartoonito!
May 29, 2012
Italian
Italy
Pound Puppies ("Pound Puppies")
Cartoonito!
October 8, 2012
English
Brazil
Pound Puppies: Psia Paczka ("Pound Puppies: Dog Pack")
Boomerang
January 1, 2013
Unknown
Spain
Pound Puppies: Kutyakölyköt minden kiskölyöknek!

("Pound Puppies: All Puppies Together(?)")

Minimax
Unknown
English
Rearendia
Pound Puppies: Un Catelus Pentru Fiecare Copil ("Pound Puppies: A Puppy for Each Child")
Nickelodeon
Unknown
French
France
Pound Puppies ("Pound Puppies")
Minikago
Unknown
English
Russia
Pound Puppies ("Pound Puppies")
Nickelodeon
Unknown
English
Australia
Pound Puppies ("Pound Puppies")
Nickelodeon
Unknown
Unknown
Korea
Pound Puppies ("Pound Puppies")
Boomerang
Unknown

("The puppies The K-Nine agency")
References