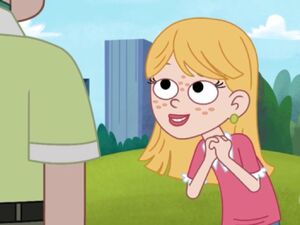 Pippy (birth name as Amy) is a child star who adopted Pooches in "I'm Ready for my Close Pup." Amy was voiced by Lauren Tom.
Profile
Amy played the lead role in the TV sitcom Pippy vs. Pooches. Her character Pippy hated Pooches, but in real life, Amy loved Pooches and wanted to adopt her. When chief network executive Darren Dross learned this, he envisioned a new idea for the show and changed the title to Pippy Loves Pooches. He also allowed Amy to adopt Pooches from her trainer Gary.
Appearance
Amy is freckles and has blonde hair with freckles. Amy wears jade earrings and a short-sleeved hot pink shirt.