Pound Puppies: A Rare Pair is a DVD that released on January 19, 2016. It includes four episodes from season 1 and one episode from season 3.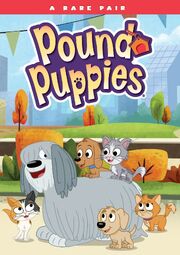 Synopsis
It's Raining Cats And Dogs - And An Alligator - At Shelter 17!
Lucky, Niblet, Cookie, Squirt and Strudel are back for five more exciting adventures of the Pound Puppies! From trying to get a kitten and a puppy adopted into the same home, to trying to place an alligator named Rover(!), to sneaking into the Kennel Kittens' compound to retrieve a stolen gadget, this team of determined canines will do whatever it takes to find the perfect loved ones for each and every pet at Shelter 17!
Episodes