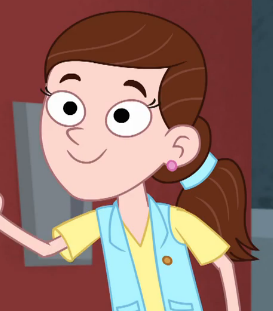 Sevtlana Gorchenko is a 9-year-old Russian girl who adopted Yakov in "The Pups Who Loved Me." She was voiced by Alanna Ubach.
Profile
Sevtlana lives on a volcanic island out in the Mediterranean sea with her father, a research scientist at a top-secret facility that manufactures "Uncle Flubby's Puppy Grub" brand dog food.
According to Bondo's version of the Free Kid Database, Svetlana is a intelligent, curious girl who is in wonder of the world around her. Sevtlana was first seen on the FKD as Yakov's perfect person. Afterwards a brainwashed Yakov meets and is adopted by Sevtlana. Later, she unknowingly gets Yakov back to normal.
Appearance
Sevtlana is a natural brunette (in a ponytail) who has fair skin. Sevtlana wears pink earrings, a short-sleeved yellow shirt and a turquoise vest (with a bronze pin)