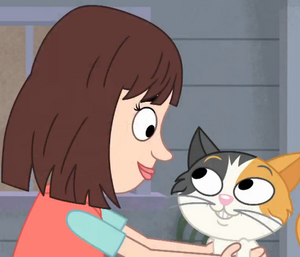 Suzanne D'Artista is an 11-year old girl who adopted Spoons in "Hello Kitten."
Suzanne was voiced by Jessica DiCicco.
Profile
According to the FKD, Suzanne loves cuddling, playing with string, fishing, and being extra frisky. making her a perfect match for Spoons. With the help of the Pup club, a kitten named Teensy, and the Kennel Kittens, Spoons found Suzanne.
Before adopting Spoons, Suzanne recently had a pet, a puppy named Bumper, who as it turned out was Spoons' old friend from when the two of them were very young.
Appearance
Suzanne is a natural brunette who has fair skin. Suzanne wears a turquoise shirt with a orange vest.