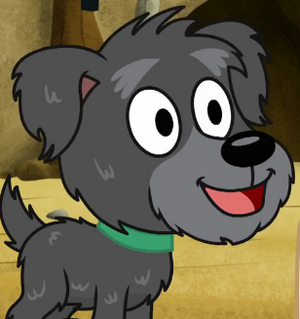 Yakov is a Russian puppy who appeared in "The Pups Who Loved Me." He was voiced by Rob Paulsen.
Profile
According to the FKD, Yakov's perfect person was Sevtlana, a Russian girl who lived on a remote island in the Mediterranean sea with her research scientist father, who was in charge of a dog food factory. Complications arose when the rouge Kennel Kitten Puss Puss Galore reavealed that she had used Yakov as a sleeper agent to sabotage the factory. Fortunately, Lucky, Bondo, and the pup club were able to get Yakov back to normal and save the factory. Sevtlana told Yakov she loved him which destroyed the brainwash.
Trivia
Puss Puss Galore had brainwashed Yakov to be a sleeper agent to sabotage the dog food factory. Yakov's activation words were "Once a Pound Puppy, always a Pound Puppy".
Yakov is a Russian pup and he also has a Russian accent. When he first speaks, Russian music is played.
Yakov often says "What a..."
Community content is available under
CC-BY-SA
unless otherwise noted.