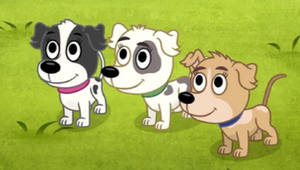 Zippster, Kippster, and Tip-tip are sisters and whippet mixes. They appeared in "Barlow" along with their grandfather Dash Whippet. The three of them got adopted by the banjo player's daughter along with Barlow, who was adopted by the Banjo Player himself. The pups arrive and are reviled to be very peppy. Zippster introduces them and they run to play. But Barlow sings his song to the pups and they become lazy. Strudel had before said that it was in every dog's nature to lie down and Barlow had unlocked that instinct.The pups start calling Barlow "Uncle Barlow." Later, Zippster, Kippster, and Tip-tip ask "Uncle Barlow" to tell them a story. Kippster asks the question and Tip-tip says please. So Barlow tells them some details about the Big Easy Hotel. Then the pups meet their perfect person, Sally Mae, she and her father end up leaving. Zippster, Kippster, and Tip-tip are able to cut them off. But Barlow wasn't able to reach his perfect person, so the pups keep whining and fidgeting until they come back and adopt him. The episode ends with the Pound Puppies singing Barlow's song.
Zippster was voiced by Cree Summer, Kippster was voiced by Jessica DiCicco, and Tip-tip was voiced by E.G. Daily.
Notes
Although they are referred to as "Zippster", "Kippster", and "Tip-tip", in the episode's dialogue, the credits refer to them as "Frisky", "Kippy", and "Tipper."
Kippster is a mix between a whippet and an English Foxhound.
Zippster is a mix between a whippet and a Dalmatian.
Tip-tip is a mix between a whippet and a border collie.
Community content is available under
CC-BY-SA
unless otherwise noted.